International Journal of Education, Language, and Religion (IJELR) is a scientific journal published biannually in May and November. IJELR seeks to develop knowledge and practice in the three domains of its title (education, language, and religion) and the relations between them. It welcomes research articles, literature reviews, and position papers dealing with any languages (mother tongues, global English, indigenous, minority, heritage, and endangered languages), as well as any educational disciplines, and religions. IJELR encourages submissions from a variety of disciplinary approaches. It also opens for studies into cultural content, literacy, intercultural and transnational investigations.
To be considered for publication, a manuscript should be written in English and follows the template provided. Submission must be an original and sole work of the author(s). An initial check of plagiarism is encouraged before submitting a manuscript. Authors should first register themselves into the journal system and create submission to initiate the process. We also invite researchers and experts to be reviewers of IJELR. If you are interested to be reviewer, please notify the editor through email. All communications or queries about the journal should be addressed through email: ijelr@utu.ac.id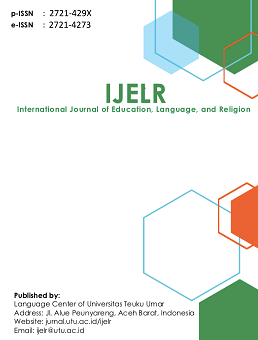 Announcements
Indexing

We are glad to announce that IJELR has now been included for indexing in EuroPub databases. EuroPub database is 

organized and existing under the laws of the England country with No., 13127935.

 It started its scientific acivity since 2015. For more information about this indexing, please click this HERE.
Posted: 2022-05-23
More...

Collaboration and Partnership

IJELR is committed to disseminate quality works of researchers and experts worldwide. In accordance to that commitment, we welcome collaboration and partnership with universities, organizations, or academic communities to publish their works in IJELR through a mutual partnership scheme. For further information, please contact the editorial team through email ijelr@utu.ac.id or WhatsApp number 0811811853.

Posted: 2022-02-16
More...

Lost Submission

We have noticed that some of the submissions to the IJELR may have been missing due to technical problems. So, if you have submitted your manuscript(s) to the editor through the system, but have not heard anything back from the editorial team, and can provide a screenshot of your submisison as evidence, please contact us through email: ijelr@utu.ac.id

Posted: 2022-02-16
More...

Annual Review Schedule

The review process of a manuscript normally takes about one to two months. Therefore, potential authors are encouraged to submit their manuscript into the journal system in a timely manner. To be considered for publication in May edition, manuscript should be submmited no later than March 30th, and for November edition should be no longer than September 30th.
Posted: 2022-02-16
More...
Vol 4, No 2 (2022): November
Table of Contents
Articles
96-105 | PDF

Nadhirah Muthi'ah, Umar Mono, Alemina Br. Perangin-Angin

10.35308/ijelr.v4i2.5684

|

Abstract views: 78 times