International Journal of Education, Language, and Religion (IJELR) is a scientific journal published binually on May and November. IJELR seeks to develop knowledge and practice in the three domains of its title (education, language, and religion) and the relations between them. It welcomes research articles, literature reviews, and position papers dealing with any languages (mother tounges, global English, indigeneous, minority, heritage, and endangered languages), educational disciplines, and religions. IJELR encourages submissions from a variety of diciplinary approaches. It opens for studies into cultural content, literacy, intercultural and transnational investigations. 
To be considered for publication, a manuscript should be written in English and should follow the author guidelines provided. Authors should first register themselves into the journal system prior to submitting a manuscript. Additionally, IJELR welcomes experts and practitioners in the field to be reviewers of the journal. Please notify the editors through email if you would like to be a reviewer.
Should you have any queries or concerns, please contact the editor through email:
ijelr@utu.ac.id.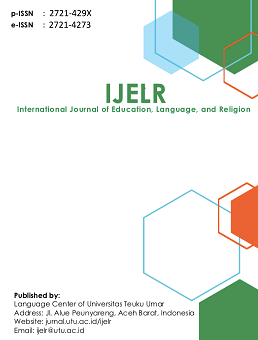 Vol 3, No 1 (2021): May
Table of Contents
Articles
17-26 | PDF

Basidin Mizal, Rayhan Izzati Basith, Tathahira Tathahira

10.35308/ijelr.v3i1.3667

|

Abstract views: 102 times
37-42 | PDF

Refanja Rahmatillah, Rizki Fajrita, Endah Anisa Rahma, Veni Nella Syahputri

10.35308/ijelr.v3i1.3680

|

Abstract views: 90 times