Journal Summary :

Jurnal Public Policy(JPP) is a scholarly periodical. JPP publishes research papers, conceptual papers, and case study reports. Article manuscripts are published after a thorough peer-review process. The journal publication is maintained by the Jurusan Ilmu Administrasi Negara at Universitas Teuku Umar, Meulaboh, West Aceh, Indonesia as the publisher and addresses recent trends on public policy. Accepted papers are in Bahasa Indonesia or English. We welcome other language articles, subject to translation cost prior to publication acceptance.

Indexing and Tools :
SINTA 3 I DOAJ I Google Scholar I

Garba Rujukan Digital

I

Dimensions

I ROAD ISSN I BASE I

Mendeley

I

Turnitin

I Grammarly.
Memorandum of Understanding
Start from April 2021, the Jurnal Public Policy that has been published by the Department of Public Administration, Universitas Teuku Umar is now collaboration with Indonesian Association for Public Administration (IAPA).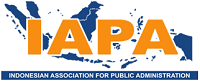 Announcements
Jurnal Public Policy

Posted: 2021-02-03
Vol 6, No 2 (2020): Mei-Oktober