A B C D E F G H I J K L M N O P Q R S T U V W X Y Z All
International Journal of Education, Language and Religion
International Journal of Education, Language, and Religion (IJELR) is a scientific journal published binually on November and May. IJELR seeks to develop knowledge and practice in the three domains of its title and the relations between them. It welcomes research articles, literature reviews, and position papers dealing with any languages, educational disciplines, and religions. However, the articles should be written in English.
View Journal | Current Issue | Register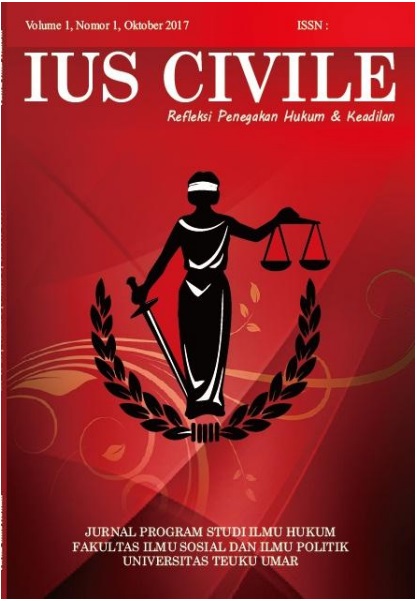 Ius Civile: Refleksi Penegakan Hukum dan Keadilan
Jurnal Ius Civile (JIC) adalah jurnal ilmu hukum yang berada dinaungan Prodi Ilmu Hukum Fakultas Ilmu Sosial dan Ilmu Politik, Universitas Teuku Umar. JIC merupakan jurnal ilmiah yang mewadahi dan memfasilitasi seluruh akademisi, paktisi hukum dan pengamat hukum yang ingin berkontribusi terhadap ide, gagasan maupun pemikirannya dalam jurnal ilmiah ini untuk dapat dipublikasikan sehingga dapat bermanfaat bagi perkembangan ilmu pengetahuan khususnya Ilmu Hukum. JIC terbit 2 kali dalam satu tahun yaitu pada bulan April dan Oktober. Terbitan perdana JIC pada bulan Oktober 2017, pada bulan ini merupakan cikal bakal lahirnya JIC dan pada terbitan kedua pada bulan April 2018 JIC sudah memiliki ISSN Online dan ISSN cetak.
View Journal | Current Issue | Register
1 - 2 of 2 Items