---
J-Kesmas is a double-blind peer-reviewed journal published by Universitas Teuku Umar, Indonesia. J-Kesmas is a biannual scientific journal focused on issues related to public health, such as (but not limited to) health services and policy, environment, and sanitation, social environment and behaviour, epidemiology, and biostatistics, public health practices, occupational health, child and maternity, and nutrition. Multidisciplinary research related to public health and medicine is also welcome. The journal publishes research articles, Article review, and Systematic Review of Public health (See Focus and Scope). The articles of this journal are published 2 times a year; April, and October.
From the beginning of its publication in 2015, J-Kesmas has been registered with Crossref. All articles published by J-Kesmas have a DOI number. J-Kesmas is also indexed by Copernicus, Google Scholar, Dimension, Garuda, BASE, and more indexing please go here.
Starting August 2020,
J-Kesmas
: Jurnal Fakultas Kesehatan Masyarakat (The Indonesian Journal of Public Health) has been accredited
Sinta 4
by the Minister of Research and Technology/National Research and Innovation Agency, The Republic of Indonesia.
Journal Secretariat: A Building Terintegrasi, Faculty of Public Health, Universitas Teuku Umar, Indonesia, Jl. Alue Peunyareng, Gunong Kleng, Aceh, Indonesia, Postal Code 23682.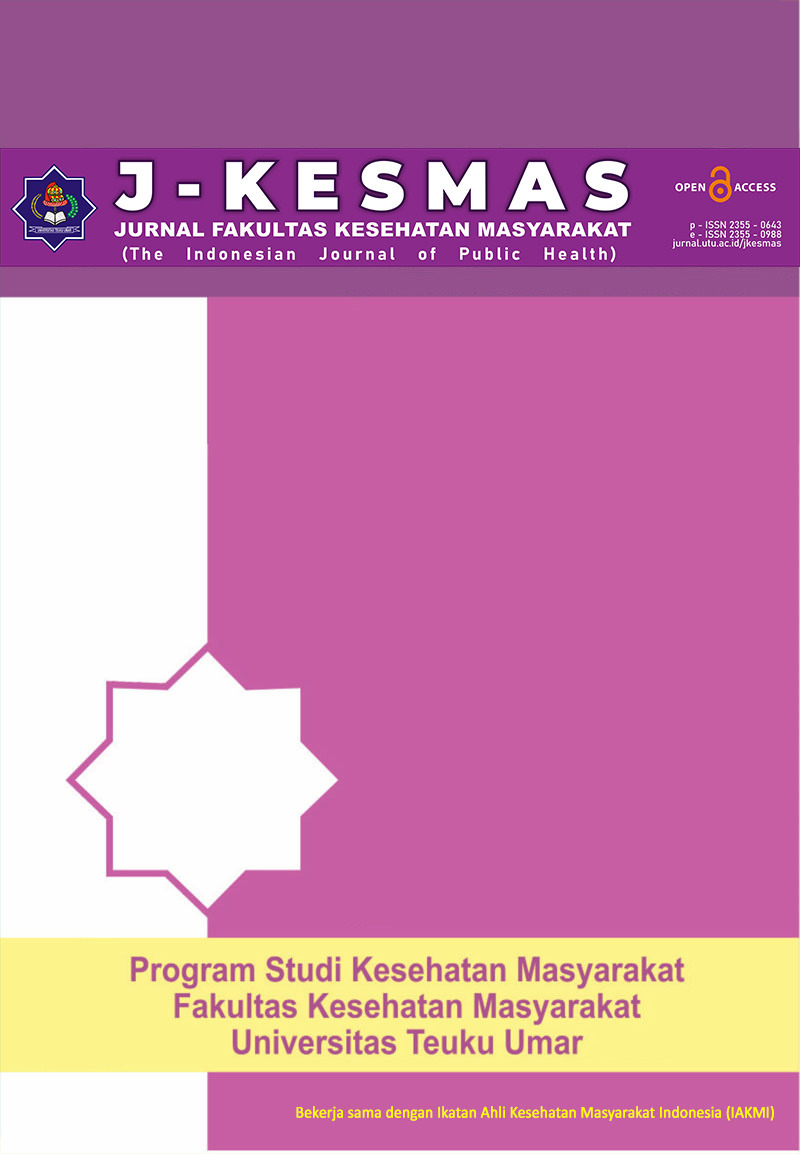 Announcements
No announcements have been published.
Vol 10, No 1 (2023): April 2023
Table of Contents
Articles
1-5 | PDF

Afwa Hayuningtyas, Suci Eka Putri, Rinawati Rinawati, Khairunnas Khairunnas, Marniati Marniati

10.35308/j-kesmas.v10i1.7198

|

Abstract views: 147 times
11-14 | PDF

Itza Mulyani, khairunnas khairunnas, Hanif Muchdatul Ayunda, Ahmad Syafiq, Aripin Ahmad, Teuku Muliadi

10.35308/j-kesmas.v10i1.7364

|

Abstract views: 360 times
15-19 | PDF

Rinawati Rinawati, Sri Wahyuni Muhsin, Widia Sari, Afwa Hayuningtyas, Suci Eka Putri, Lili Eky Nursia, Siti Maisyaroh Fitri Siregar

10.35308/j-kesmas.v10i1.7366

|

Abstract views: 242 times
30-35 | PDF

Zakiyuddin Zakiyuddin, Yarmaliza Yarmaliza, Fitriani Fitriani, Fitrah Reynaldi, Teungku Nih Farisni, Dedi Desi Arisandi, Gunawan Gunawan, Ambia Nurdin, Wahyu Gito Putro

10.35308/j-kesmas.v10i1.7479

|

Abstract views: 110 times
36-40 | PDF

Dian Fera, Danvil Nabela, Sri Wahyuni Muchsin, Kiswanto Kiswanto, Wardah Iskandar, Muhammad Iqbal Fahlevi

10.35308/j-kesmas.v10i1.7381

|

Abstract views: 100 times
46-50 | PDF

Novalya Irma Putri, Danvil Nabela, Safrizal Safrizal, Sufyan Anwar

10.35308/j-kesmas.v10i1.7386

|

Abstract views: 104 times
51-56 | PDF

Safrida Safrida, Cukri Rahma, Onetusfifsi Putra, Rinawati Rinawati, Winda Nurtiana, Yeni Kurniati

10.35308/j-kesmas.v10i1.7462

|

Abstract views: 93 times